Today's customers demand a seamless experience across all platforms because of the expanding technology. They are savvier, have shorter attention spans, and want to prioritize saving time, effort, and money during their grocery trips. For retailers to remain viable, they must be smart, nimble, and quick in their adoption of new technology for the benefit of their customers. It is vital for them to focus on how to improve their service in order to improve both in-store and online retail customer experience. But what can retailers do to achieve it?
Understand your customers – It is crucial for retailers to focus on using customer data to analyze why customers behave in a certain way and how retailers can influence their behavior. It's about getting customer insights that they can use to shape their offers and gain a competitive advantage.
Retailers need to understand the buying behavior of their customers to know who buys what, when, and how. And then turn this data into actionable insights that actually impact the retail customer experience, which are –
Timely communications – Retail customer service is all about communication and understanding, so interacting and connecting with your customers will go a long way in establishing trust. It is about reaching the customers at the right place and time with the right message by choosing easy-to-use, and effective methods of communication such as email, mobile, web, SMS, push notifications to keep them engaged and involved.
Relevant content – Shoppers expect an experience when they shop in-store and even online. Most people are not satisfied with being treated as a number when they take their custom to a retail shop. As such, stores need to find ways to offer personalization by providing relevant content within these communications to shoppers.
There are numerous ways retailers can provide a personal touch for their customers; serving personalized offers to shoppers based on their previous shopping history and habits is a very effective way to drive engagement and sales. In addition, aligning this information with data from customers shopping online can be hugely helpful in meeting their needs in-store, creating a true omnichannel experience for consumers.
Expanded purchase and loyalty – The other advantages that retailers may be able to leverage through timely communication and relevant content is to expand and upsell the customers to drive engagement. Customer rewards are a great way to incentivize loyal customers as well as draw in new ones. Loyalty programs and rewards are nothing new, but shoppers are bombarded with emails about current offers because they've signed up for a mailing list.
This doesn't qualify as a valuable reward program for customers and in many cases, can push them away. Instead, reward programs should be simple, straightforward, and relevant without spamming customers. Customers should feel that loyalty programs are tailored to suit them, giving them value, so they feel that they are really getting something unique from their relationship with the retailer.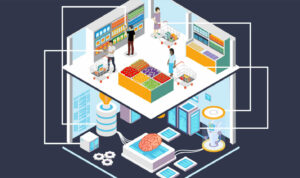 At Birdzi, we focus on precisely these points to create a true customer-driven shopping experience. Birdzi's email platform and mobile app platform drives customer engagement by providing highly personalized content that is adapted to each shopper's needs and preferences.
Big data from multiple sources powers Birdzi's AI and machine learning relationship engine to do at scale what we used to do in the corner store: engage each customer on a personal level. Its proprietary recommendation engine examines all shopper behavior to build profiles & deliver targeted content across both physical and digital assets.
Birdzi also seeks to grow the value over shoppers by understanding key gaps in shoppers' purchases that retailers can leverage to drive purchases in less sold categories. With Birdzi's offer management and targeting platform, you can achieve elevated customer engagement by reaching your customers at the right place and time with the right promotions, coupons, discounts, and grow value, one shopper at a time.