How does strategic personalization help grow your business?
Greater digital engagement with retail shoppers, driven by the increase in online shopping, has brought with it a focus on personalization. Recent research suggests personalization can influence purchase decisions and loyalty by, "…creating delight, gratitude, or customer satisfaction." But not all personalization is the same.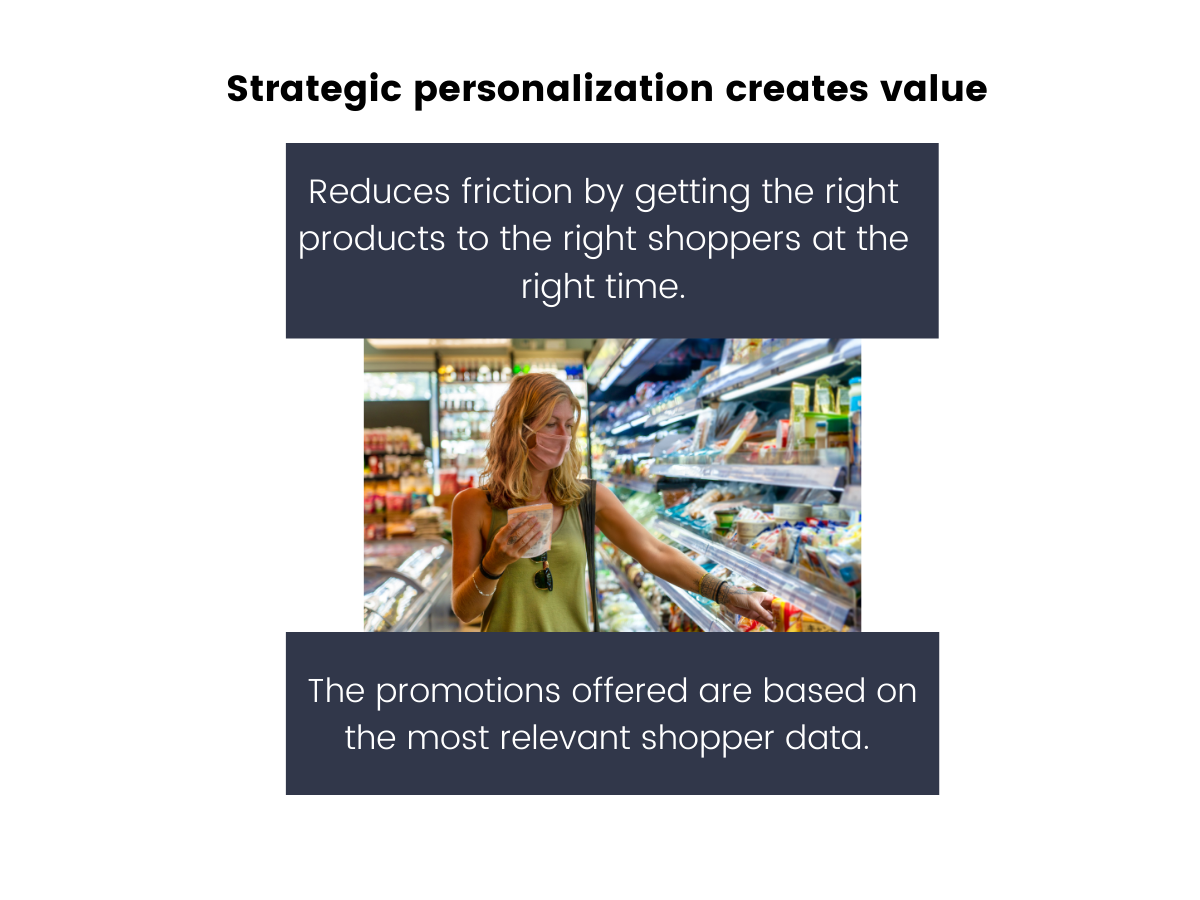 Much of the marketing personalization across retail today is what we think of as basic relevancy. Basic relevancy is created by parsing existing mass content like the weekly ad to present only the most relevant items to each household based upon past purchases. Personalization is already a customer expectation;  Amazon and other web-based merchants have been offering this for years. The primary value created through basic relevancy is that it helps shoppers locate relevant products already on sale more efficiently than browsing through hundreds of products. 
Strategic personalization is another animal altogether. The value of strategic personalization is created by leveraging a deep understanding of each customer to grow the shopper's lifetime value, quality, and the breadth of categories they shop. This type of personalization is far more impactful for the shopper because it provides special savings on relevant products; and more effective for the retailers by helping them achieve their business goals and grow sales, one customer, at a time.
How does Birdzi do it?
The process begins when the retailer selects a customer audience: most valuable shoppers, customers who have declined in spending over the past quarter, etc. Birdzi then deconstructs each shopper profile to understand the most effective levers to use in developing a strategy to grow the value (spending, visits, retention) of each customer.
With that understanding, and the entire store product catalog available, Birdzi's VISPER campaign automatically suggests the most effective products to promote to each customer, and what promotion price will be most effective. This removes the historical constraint of a limited offer pool and makes use of all 40,000+ products across the store. This process represents a sea-change in personalization philosophy, one that powers greater effectiveness and perceived value by the shopper.
This approach is made more powerful by Birdzi's automation of every step of the process, from audience creation to recommended promotions for each customer to campaign execution. The retailer can always override the recommendations and align the campaign with business budgets.

Birdzi's VISPER campaign product is just the latest example of Birdzi's customer-first philosophy and separates the company from others. The Birdzi team's unique backgrounds in the human genome project, signal processing, and financial systems, combined with new tools like AI expert systems, are transforming retail marketing.
But does it work?
The simple answer is yes.  Birdzi has implemented campaigns for Weis Markets and Coborns with incredible results.  County Market has also committed to running VISPER Campaigns in the future.  The results have been exciting and enlightening. The following are from a recent campaign that Birdzi ran for one of their partner retailers. These numbers are indicative of other campaigns Birdzi has executed.


Retailers want to give their customers the best experience possible, and sometimes that requires complicated technology beyond the scope of their expertise.  The current grocery landscape requires partnership with technology service providers to deliver the level of personalization customers are looking for. This is where Birdzi comes in.  We continue to develop tools to help grocery retailers grow their businesses, one customer at a time.